I like your style flower card from
Fashionable Friends. (benefit Cancer Angels)

Let me just say that these are the best stamps I have used yet! If you would like to order please click on this link.
http://www.gettingcricky.com/p/products-stamps.html
Benefits Cancer Angels -
Cancer Angels is a non-profit organization that helps aid Level 4 cancer patients of ALL kinds. Many of these patients have such severe cancer and chemo that working or holding down a job is near impossible. Cancer angels gives them hope and monetary help while undergoing treatment in this stage. Imagine finding out you have cancer, and losing your job, home, and everything else because you can't work. Sometimes you just need an angel...and this is my way of becoming a silent angel (all of us together) to those who so desperately need some good news in the midst of such a storm.
Have you heard the BIG NEWS???
This Friday, the Design Team from
Getting Cricky with K Andrew
is having a Blog Hop and UStream Event!! You definitely won't want to miss the release of TWO more Stamp Sets and all of the AWESOME Design Team creations using Kristal's fantastic new stamp line!!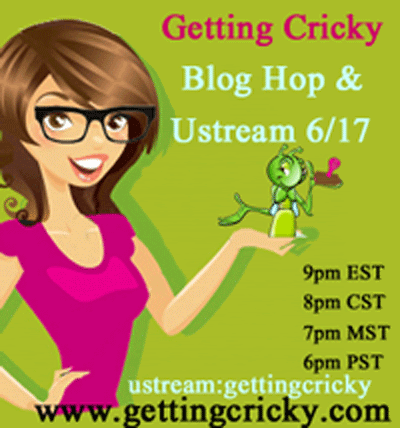 So mark your calendars now, and join us for a fun-filled craft-inspired evening of FUN and FRIENDSHIP this Friday, June 17th at 9pm (EST)/6pm (PST)... The hop starts at
Getting Cricky
!! See ya there!! :)In the meantime... Join the Crowd at Kristal's Ustream Channel!!